Drafting a Business Succession Plan
July 19, 2022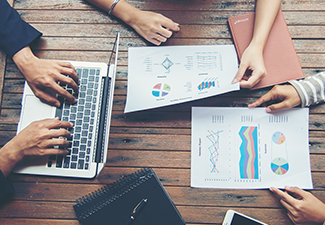 When you're busy running a business, trying to manage all the processes and people while returning a healthy profit, you may get so wrapped up in what you're doing that you forget to plan for the future. What happens when it comes time to retire? What if something happens in your life that means you must move on to confront other priorities? What if you become incapacitated?
The pandemic should have taught all of us that we can never predict the future or expect things to keep moving on just as they are now.
For someone involved in running a business as an owner, co-owner, or partner, you need to have a succession plan in place. Succession planning involves not only having the people, resources, and systems in place to ensure that the business keeps operating and doesn't come to a standstill but also having a plan in place for how you can exit and receive payment for your portion of ownership.
If you're running a sole proprietorship – a family business – have you groomed a family member to take over, or do the family members want any part of it? Have you trained a key employee to assume your duties? If you're a partner or co-owner, have you set in place a mechanism for you to be bought out?
These are all important questions, and they get more involved the more structured and long-established the business is. If you need help in creating a business succession plan – or need your existing one updated and reviewed – in or around Austin, Texas, contact me at The Law Office of Mario Flores, PLLC immediately. My practice is dedicated to helping people make wise financial decisions for the future, which includes business succession planning and estate planning in general.
I can review your situation with you, advise you of your options, and help you draft a plan that will bring peace of mind to you and your loved ones going forward. I also proudly serve clients in the surrounding communities of Round Rock, San Marcos, and Georgetown.
What Is a Business Succession Plan?
A business succession plan is to have a blueprint in place detailing how your business will keep on track going forward while enabling you, in a sense, to "cash out." This involves, as mentioned earlier, not only having the people, systems, and processes in place to continue operating the business in a successful manner, but also having a means for you to sell or transfer your part of the investment.
Why Is a Business Succession Plan Important?
Having a business successful plan in place is not only important but also essential. If you've always been the one making all the decisions and managing people, resources, and systems, and something happens to you, the business may crumble. Even if you've built up a well-oiled machine, so to speak, you're going to need someone to step into your role.
What Are the Steps in Creating a
Business Succession Plan?
The first step is to confer with an experienced and knowledgeable estate planning attorney. Then, depending on the type of business in which you're involved, you will need to cover how your role in the company will be assumed and by whom and how you will receive compensation for your investment.
There are five common ways to transfer ownership of your business:
Co-owner: You can sell your interest in the business to the co-owners.
Heirs: You can pass ownership to a family member if it's a sole proprietorship.
Key Employee: You can sell to a key employee, which generally means your business would have to be a sole proprietorship.
Outside Party: You can obtain a valuation of your business and then sell to an outside party.
Partnership: Generally, the partnership agreement will specify how to handle the situation when one partner decides enough is enough and wants to move on. The agreement may allow a transfer of your own portion to a family member or an outside party, or there may be a buyout provision.
Common Obstacles to Take Into Consideration
This simplified look doesn't take into consideration other factors that may make your succession plan more difficult to create and then navigate when the time comes.
For instance, every family member may want to run your business, or the family member you choose to take over may create infighting within the family: "Why him and not me?"
If you look to train and then sell to a key employee, the employee most likely won't have the cash on hand to buy you out immediately. You'll probably have to arrange some kind of buyout involving a down payment and then monthly payments.
If you're in a partnership, you never know how the other partners are going to react. They may not want to deal with a family member or outside buyer who takes your place (or the provision may not exist in the partnership agreement), or they may decide it's time for them to move on as well. Then it becomes a matter of selling the entire business.
That's why the earlier you get started on your business succession planning, the better off you are. You can anticipate obstacles and make them manageable.
Legal Guidance You Can Trust
A good business succession plan should be part of your overall estate planning. After all, both deal with the future of you and your loved ones. You should have plans in place to take care of everyone should the unexpected happen and certainly for when the time for retirement comes.
If you're a business owner in or around Austin, Texas, and you wish to create a solid plan for your business, yourself, and your family, contact me at The Law Office of Mario Flores, PLLC.